Posted by:
Borszczuk
in
Applications
,
Internet
,
Linux
,
Windows
, tags:
mail
,
mozilla
,
mua
,
plugins
,
review
,
thunderbird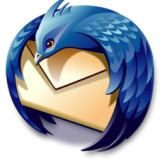 All recently available Mozilla 's applications, including we browser Firefox and mail client Thunderbird can be easily extended with help of 3rd party plugins . I just checked these available for Thunderbird and luckily found some worth using on daily basis.
Some extensions I consider a mandatory must-have:
Others are still useful:
Confirm Folder Move [website ] introduces a preference that allows users to be prompted before moving folders. Useful rather for those using IMAP than POP3, but still – it nicely prevents accidental folder structure mess-up.
Config Date [website ] configures the 'Date' column and displayed date in message header [screenshot ]. Unfortunately you can only choose from the predefined formats (of which there are just five). Would love to see an option to craft my own custom format though.
Attachement Extractor [website ] extracts all attachments from selected messages and then can delete the message, remove the attachment from the message or mark the message as read.
There're other plugins which seems to be nice, but… there's always something that annoys me. So see them for yourself and decide – you may still like them more than I do:
Nested Quote Remove [website ] simply removes nested quotes when replying to a mail leaving these quoted below (configurable) threshold. From the 1st look this may be useful, but well… I lived so far without such tool and simply got no problems removing quotes by hand. Maybe if you got habit of keeping all former conversation unaltered while replying, this plugin could help you reduce your receipients' anger from being "spammed" with unedited emails.
Quote Collapse [website ] collapses and expands quotes – pretty handy while dealing with netiquette unaware top-poster. One thing I miss the ability to set up a folding threshold. Unfortunately this plugin is not configurable and folds every quote found, therefore I am not quite sure if I keep this one for a longer period.